Articles on Andrew Dan-Jumbo
From Northeast Reporter.com:
Fix is in as 'Handyman'
drops into Parkville

09/20/07

By Lauren Taylor


A good-looking guy wearing a tool belt swoops into town to remodel your basement and rescue your backyard. Sounds like something out of a movie, doesn't it?
But it was Toni Randle's real life, as TLC's "Take Home Handyman" and master carpenter Andrew Dan-Jumbo took over her Parkville house for two days last week.
"I am just beside myself. It's amazing," Randle said. "It was a once-in-a-lifetime opportunity."
The premise of the cable TV show is that homeowners get a handyman -- Dan-Jumbo -- for 48 hours to complete two projects. The homeowner and a helper, in this case Randle's two sisters, assist.
Randle came across the show online and sent in an e-mail two months ago. Soon, a casting director asked for more information about her and the house, then requested photos. Two producers came to her house with a video camera, and just one week later, Randle received a call that she'd been chosen.
"She's not handy," said executive producer Craig Shepherd. "She's a single woman who bought the house and did what she could."
One of Randle's obstacles to fixing up the house herself was money. In March, she was in a hit-and-run accident, so her savings went toward medical bills instead of the house.
"Here's a woman who did the right thing, buying a house," Shepherd said. "We want to get her settled so she has the space to come home to and recoup."
Randle selected two areas of her house for Dan-Jumbo and crew to fix up: a water-damaged basement and the backyard.
Dan-Jumbo and crew turned the basement into an entertainment room by installing crown and baseboard molding, hanging drywall, installing electrical outlets, painting, putting up new ceiling tile and recessed lighting, laying new carpet and building a little bar.
The show even bought wineglasses for the bar, with Dan-Jumbo signing one and the crew signing a second.
"I can't believe the downstairs right now. It's a completely different space," Randle said.
The backyard was a mix of dirt and mulch, after Randle had a rotting oak tree removed. Dan-Jumbo put down sod and pavers and built a patio area with a fire pit where Randle can entertain.
Randle said Dan-Jumbo was a perfectionist, even pulling up blocks of her sidewalk to remove tree roots that were pushing the sidewalk up before replacing the blocks.
"It's a testament to him to how much he's a perfectionist and loves what he does," Randle said.
"He is definitely a hard worker. While the director and producer were thinking of where to put the lighting, he'd run back there and continue working until they were absolutely ready," she added.
The show brought everything needed for the renovation, including a cleaning service, and took over Randle's house and part of the street for three days. One of her bedrooms was used as an office and another was turned into a TV studio.
A food tent -- mistaken by some neighbors as a new place to buy snacks in the neighborhood -- was set up across the street from her Willow Oak Road home, and trucks and work tents filled the alley behind her house for two days.
"We had people walk up, people drive up," said Randle, adding that a security guard was stationed outside at night to watch the tools.
And how was working with Dan-Jumbo, one of TLC's home improvement stars?
"Andrew is a trip; he's so funny," Randle said. "He doesn't have any arrogance. He's a carpenter who happens to be on television.
"We got emotional at the end because they become your surrogate families."
The new 12-episode season -- focusing on houses in the Baltimore, Washington and Virginia areas -- airs at 11 a.m. Saturdays, starting in February, on TLC.
To apply for the show, go to
www.tlc.com
.
**************************
Gawking at TV star – that's on house
While some came to home and garden show for values and trends, others just looked at the scenery.
By STEVE MOCARSKY
WILKES-BARRE TWP. – What do a home security system, a triple-pane window and a TV sex symbol have in common?
Nothing, really, except that thousands of people from across the region came to see them and other items and services this weekend at Wachovia Arena during the Northeastern Pennsylvania Home & Garden Show.
Perhaps using descriptors for Andrew Dan-Jumbo other than "sex symbol" from his publicist's Web site would have made it a fairer question.
But the graphic designer and professional carpenter was also named one of People Magazine's "50 Most Beautiful People" in May 2003 after his first season starring in The Learning Channel's home improvement show, "While You Were Out."
The show is based on one homeowner surprising his or her spouse or significant other with a room makeover by the show's cast. The "surpriser" finds a way to get the "surprisee" out of the house for two days while the work is being done, and "While You Were Out" covers all costs.
"He was cute. He's extremely personable. I never miss the show, so for me, it was great to meet him in person," said Mary Mussare, as her husband, John, smiled at his wife's giddiness.
The Mussares, of Williamsport, waited in line with dozens of other fans for an autograph and quick chat with Dan-Jumbo after his presentation.
John said he enjoyed the star's humorous stories of behind-the-scenes action from "While You Were Out," and wouldn't mind being "the surprisee" for a show. "The concept of free things is appealing," he said.
"I just want to get him in my house," Mary quipped in reply.
Connie Traver of Pikes Creek was just as enthralled. "I'd probably still be in my living room if he wasn't here," she said.
Kate Zukovich of Tamaqua said she and friend Amy Subalusky of Bellefonte came to the arena just to see Dan-Jumbo because they love the show.
"I want to sign up for the show right now. I would have them re-do my brother's apartment. He has two pieces of furniture – one for him and one for his dog – and he thinks he's fully-furnished," Subalusky said.
*********************************************************************
Andrew recently spoke with The Des Moines Register (Iowa) from on location in Phoenix, Ariz. (October 2005)

Q. When you speak at home shows, are people more interested in carpentry advice or behind-the-scenes gossip?

A. Generally, people are more interested in the gossip of the show. I do get technical questions, but they're hard to answer. You need a better handle on what's in their home. It's hard to give accurate advice until you see what they're dealing with.

Q. Is there one particular item you find yourself constructing all the time?

A. There's always a need for shelving.

Q. What's your own style?

A. I like an older style . . . the '20s and '30s. Art Deco is a big part of my design taste. My home I've stripped and stained the floors mahogany. Simple Art Deco leather furniture.

Q. Do you and Ty Pennington (of ABC's "Extreme Makeover: Home Edition") ever get together and talk about the challenges of being heartthrob carpenters?

A. I haven't spoken to Ty recently. Being the carpenter on the show — it has such a large female following — it makes you the draw for it, even though the most important part of the show is the design. In 2003, I got selected for People magazine's Most Beautiful (issue) and it got out of hand . . . (but) I'm absolutely not complaining about it.

Q. Do you see yourself dropping the TV career and returning to the contracting business?

A. My brother and I are partners and it's still a reality, but I think I would lean toward opportunities I have outside of construction (and) maintaining my profile on television. I wouldn't be too anxious to go back into the world of construction in that capacity I was in before. My hat goes off to builders. It's a hard life with long hours and little glamour.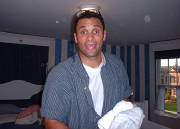 TV Guide: What Woman Want



Printed: August 08, 2004



Andrew Dan-Jumbo

Age: 40

Hometown: Buffalo, NY

Single?: I have a girlfriend.

Before Television I was a... contractor, semipro surfer, chef (nouvelle cuisine) graphic designer and model.

Favorite wall color: Swiss coffee

Design features I love: High ceilings, hardwood floors, and central vacuum systems. I hate dragging a vacuum cleaner around.

Design features I hate: Wallpaper, paneling, dropped ceilings and stainless steal appliances. Oh and vinyl siding and yard gnomes.

Weird fan requests: Fan marriage proposals-more then 100 in letters, e-mails and in person. I get a lot of improper invitations from married ladies, as well.

Favorite TV show: Will and Grace, The Simpsons and reruns of Seinfeld.

If I had my own TV show, it would be... about current affair and world events.
Andrew Dan-Jumbo


He's the hot handyman with bulging biceps and a name that's even bigger. Andrew Dan-Jumbo is definitely a name and face that sticks with you. At six-feet-two-inches and 200 pounds, Dan-Jumbo has just the right hardware for TLC's wildly popular show, "While You Were Out."

From his eclectic collection of T-shirts to hammering out some pretty tough projects, the 39-year-old Nigeria-born and British-bred beefcake is becoming quite a celebrity. Earlier this year, Dan-Jumbo's tool chest even made the cut as one of People Magazine's 50 most beautiful.

Dan-Jumbo says, "It's worked wonders for my appeal to the ladies, but I want to know why they weren't interested in me before this."

Before constructing his job on "While You Were Out", this self-taught carpenter once worked as a model, and even flipped a few burgers. He says, "I had to make ends meet, and so I got a job working at Burger King."

But despite his successful new career, he still lives in a modest bachelor pad with his two cats, Max and Oprah.

You can see Dan-Jumbo and the rest of the "While You Were Out" gang Friday nights on The Learning Channel.
Andrew Dan-Jumbo -- While You Were Out

He's sexy, he's British and People magazine named him one of its "50 Most Beautiful People," in 2003. Andrew Dan-Jumbo is, to put it plainly, one of the main reasons that many of us watch While You Were Out.

A former model, like Ty Pennington, Dan-Jumbo also runs a construction company when he's not busy showing off his carpentry skills on the show.

Whether he's banging or sawing, Andrew Dan-Jumbo is one of the most hunk-a-licious excuses for watching makeover television.
************************************************************************

Inside TV June 26, 2003 By Kate O'Hara

©2003 Tribune Media Services Ins.

WASH ME DOWN...During TLC's home-decorating Memorial Day marathon of its hit "Trading Spaces," designer Doug Wilson admitted, in a pop-up comment appearing during three special "Designer's Cut" episodes, that he did laundry at a house where he was redoing a room.

It seems Wilson isn't the only one.

Andrew Dan-Jumbo, one of two carpenters (with Leslie Segrete) on TLC's other redecorating series "While You Were Out," which does two-day room and garden revamps for participants' unwitting, out-of-town friends and loved ones, cops to doing the very same thing.

"My series producers would be livid if they found out I was still doing it," Dan-Jumbo says. "I was told to stop doing it. But it's tough. My reality is, I live out of a suitcase. When I'm on the road, half the hotels don't have laundry facilities.

"I keep my bag in the trailer between cities, because I have so many clothes, that I don't want to fly to and fro with them. I like to wash the stuff before I put it away, so the last house in a city, I always ask the homeowner if I might use their laundry facilities. No one's ever turned me down."

And it offers host Teresa Strasser a chance to catch Dan-Jumbo having a meaningful moment with his skivvies. "Teresa always goes and grabs the camera while I'm folding my smalls. The door will break open, and it will be Teresa there with two cameramen and a microphone."

One recent shoot in Philadelphia, though, caused Dan-Jumbo some laundry-related concerns. "It was very funny ó the homeowner was very upset at our design. He didn't like what we did to his deck. We cut a hole in it, lowered a big section, and turned it into a beach. Then we put a big water feature on the deck, knocked half the railings down and painted the back half of his house blue.

"He was one of those homeowners who was very proud of his house. The neighborhood was like 'The Truman Show.' Every home was identical, and he didn't like the fact that this house was different now. He was really angry. The show's going to be a very highly rated show eventually when it airs.

"But I was doing laundry at his house, and when he came home, I hadn't quite finished doing it. I could see he was quite angry. He wanted to hit somebody. He was so mad, and I was really nervous, 'What if he finds out I'm doing laundry? He's going to go crazy.'"

And if there's tension with surprised homeowners, Dan-Jumbo admits that sometimes all does not go smoothly among cast and crew. "On our show, we get a lot more confrontational. We're all very tired. It's been a long season; everyone's very stressed. It doesn't take much for the ice to start cracking.

"We have this expression, 'Stay in the light. Don't let that dark cloud come in.' It doesn't take much, and you're barking at one another. It's quite funny to watch it unfold."

**************************************************************************
Andrew Dan-Jumbo
His knowledge of design has taken him around the world from Nigeria to England and now America.

Meet the presenters of While You Were Out:

Named in May 2003 in America's People Magazine as one of '50 Most Beautiful People', Andrew Dan-Jumbo had no idea that he would become an overnight sex symbol by utilizing his exceptional carpentry skills on While You Were Out.

Born in Nigeria and raised in Shoreham, a coastal town near London, England, Andrew attended London's St. Martin's College of Art & Design, then moved to San Diego, California, where he honed his surfing skills.

After a few years Andrew returned to England, where he began a career as a freelance graphic designer.

In 1991, Andrew returned to the U.S. and, with his brother, co-founded Eurotek, a commercial and residential construction company that specializes in historic restorations and new home developments in Buffalo, New York.

In addition to his extensive contracting projects, Andrew regularly volunteers his time modeling (for charity functions - cystic fibrosis, in particular) for upscale, high fashion agencies in New York - a vocation he's been involved in since college. When he's not building and designing for While You Were Out, Andrew enjoys cooking, surfing and anything else that's remotely athletic.
Andrew Dan-Jumbo's Buffalo
"I've been to 40 plus cities with my job as a carpenter on The Learning Channel's 'While You Were Out.' To this day, everyone that was on the Buffalo trip says that it was the most fun they've had on any trip. I was the tour guide for the Buffalo show's production crew. I took them on a historical tour of the city, around the Albright-Knox Art Gallery and up Delaware Avenue to show them the mansions. I noted that, by percentage, Buffalo officially has more of the original mansions from its past standing than any other city in the country. Buffalo has such grand avenues and Delaware is just one of them. Look at the mansions on West Ferry, Tudor Place and Cleveland Avenue. I also showed them the Darwin Martin House, because I have closely followed the progress of the restoration project. My visitors were in awe of the spectacular housing. They had no idea what Buffalo looked like, with its beautiful gardens, parks and huge trees that form canopies of greenery over the avenues. So many places don't have this in the heart of the city. They had no idea what to expect and they were very impressed. The crew enjoyed a Whirlpool Jet Boat tour and I showed them where I jet ski on the lower Niagara River. We were served dinner at the Riverside Inn overlooking the water and watched a beautiful sunset. I selected Tsunami on Kenmore Avenue for Pacific Rim food and Saigon Café for Thai food. If only our schedule would have permitted us to visit the Theatre District. It would have been the icing on the cake."